Noodhulp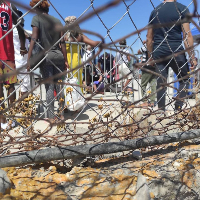 Aangemaakt door :
Ramon Müller
location_on
Locatie:
Moria, Griekenland

Noodhulp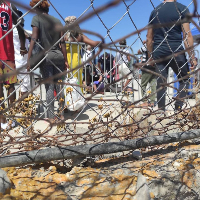 Aangemaakt door :
Ramon Müller
location_on
Locatie:
Moria, Griekenland
Verbonden inzamelingsacties (0)
First of all: Thank you for taking the time to read this text. We want to tell you about a Syrian family that we (a group of concerned people from Europe) have started to care about for some time now. Their story has touched us and we are concerned about their current situation and the future that lies ahead of them.
Help as best as we can
With this fundraiser we want to raise money to help them as best we can. Please know that every dollar you donate we give to the family. We invest a lot of our time and money in them and hope that after reading their story you will also want to contribute a few euros to improve their situation.
The father, mother of six children have come a long way together. Full of hurdles and difficulties.They fled the war in Syria and finally arrived in camp Moria over a year ago. Under inhumane conditions, they survived there while applying for asylum in the meantime.
Some bad and good news
Fortunately, the mother and her newborn child managed to get asylum. The bad news is that because of the EU's heartless migration policies they were forced to abandon the camp and leave their family members behind. Due to administrative ambiguities, the asylum application of the remaining family members was rejected. They appealed this decision with the help of a lawyer. For this fight quite a lot of money is needed, money which we are now collecting for the family.
Medical problems
Both the father and his oldest son (11 years old) have severe medical problems. The sons school was bombed in front of his eyes and watched his friend die in front of him. Because of the trauma he suffered then, he now suffers from attacks where he can't see or hear and experiences painful headaches. His father is also in constant pain. He still suffers from the wounds he received during the war. Due to a lack of proper medical care in the camp, his physical health deteriorated even more and he developed further complaints on top of that. To name just one: he has metal pieces in his head and neck that serve as a painful reminder of a bombing in which his cousin died in front of him.
Apartment in Athens
Fortunately, they managed to leave the camp. They now live in Athens in an apartment, but no longer receive a monthly allowance. This has made them dependent on donations and help from aid organizations for their daily necessities such as food and clothing. They are currently awaiting their medical treatment - something that is taking much longer than we had all hoped for.
Legal support & hope of a new life
In the meantime, the mother and her sick baby managed to travel to Germany. There she is now doing reasonably well. She is receiving medical care and can finally get some rest. With the help of a lawyer, the father is currently busy challenging a rejection of their asylum application. This is an exhausting and bureaucratic process.
All this in the hope that the family can be reunited in Germany and finally start building a new life there.
THANK YOU!
As we said above, every euro you donate goes 100% to this family. And every donation is welcome: big and small. If it is difficult to support financially, you can also help us enormously by sharing this fundraiser in your network.
On behalf of the father, mother and all the children of this family: Thank you!
Ondersteun deze inzamelingsactie door er een nieuwe inzamelingsactie aan te koppelen. Alle donaties worden toegekend aan de bovenliggende inzamelingsactie.